What are the most popular products exported from China in 2020?
2020-12-28
Under the global market economy fusion. What changes have taken place in China's manufacturing export market? In the first half of 2020, which products will become explosive for export?  

In mid-July this year, China's foreign trade export half-year test results were released. Although China's total foreign trade exports fell by 3% in the first half of this year, since the second quarter, China's foreign trade exports have shown positive growth for three consecutive months. In addition to medical supplies, what are the products that stimulate foreign trade exports?   

No.1 Bicycle
In special times, many people try to avoid taking public transportation, so bicycles have become a must-have item for travel.  Some bicycle export merchants said that the orders for the second half of the year are full. With regard to European and American countries' "one horse ahead", news of frantically buying bicycles is not uncommon. And European and American countries have also introduced relevant encouraging policies to arouse people's enthusiasm for cycling.  
When Italians buy bicycles, the Italian government has approved a bicycle subsidy of up to 500 euros to meet the bicycle consumption needs of 60% of consumers; in France, each person can reimburse 50 euros for bicycle repair costs; business owners will Obtain government financial support to provide 400 euros of transportation subsidies for employees who ride bicycles to and from get off work; the British government will introduce bicycle vouchers worth 50 pounds each and introduce a tax-free bicycle purchase plan.  
According to data released by Russian online retailer Wildberry, Russian bicycle sales in May were 60 times that of the same period last year;  According to data from a European cross-border e-commerce platform, compared with the same period last year, bicycle sales in the Spanish market increased in May More than 22 times, Italy and the United Kingdom both increased by about 4 times;   
Compared with the same period last year, the use of exercise bicycles for commuting to get off work in the United States increased by 66%, and recreational bicycles increased by 121%...  As the disease outbreak has completely changed people's living habits, the cycling fever is expected to continue after the outbreak. It is not just the complete bicycle manufacturer that sells bicycles, but also includes upstream and downstream enterprises of more than 60 parts such as tires, cushions, and hubs.   
No.2 E-bike
The popularity of bicycles is not limited to traditional bicycles. It is also affected by environmental protection and safe travel, and it also benefits from electric vehicles. According to the statistics from Tianyan Check, according to the industrial and commercial registration, in the first half of 2020, there will be nearly 18,000 battery car-related enterprises across the country, an increase of 15.57% year-on-year.  
As the world's largest exporter of two-wheel electric vehicles, my country's production and sales have exceeded 90%. Since March, not only domestic, but also the export of electric vehicles has also shown rapid growth.  
Electric bicycles are also covered by the subsidy policies of European and American countries:  
The Dutch government subsidy may exceed 30% of the purchase amount;  
In Italy, all urban residents with a population of more than 50,000 can buy electric bicycles or electric scooters, and enjoy a subsidy of up to 70% of the price, and the subsidy is capped at 500 euros;  
Electric bicycles subsidize 500 Euros in Munich, Germany;  
The subsidy for electric vehicles in Chambery, France, also reached 500 euros.   
In May of this year, the willingness of Italians to buy electric vehicles increased 9 times, with the ratios in the UK and France being 1.4 and 1.2 respectively. Supported by national policies and the growth of public demand, the development prospects of the electric bicycle industry are generally optimistic about the international market. According to the  Navigant Consulting report, by 2025, the scale of the world's electric buses and electric two-wheelers (electric motorcycles, electric bicycles and electric scooters) will reach 62.2 billion US dollars, with an average annual growth rate of more than 10%.   
No.3 3D printer
In order to solve the problem of the shortage of emergency supplies needed to prevent and control the epidemic, the United States, Italy and other countries have used 3D printers to produce ventilator accessories, personal protective masks, and even established online forums for governments, hospitals, and non-governmental organizations to release demand information. , And exchange experience in the industry. The role of 3D printing in global epidemic prevention and control reflects the popularity of this technology and the expansion of its application range.  
Domestic 3D printer manufacturers are mainly located in Shenzhen, Dongguan and the Yangtze River Delta in the Pearl River Delta. They have a strong foreign trade foundation and generally show an upward trend against the trend when the epidemic broke out. According to data from the National Bureau of Statistics, driven by hot sales in overseas markets, the output of 3D printing equipment in China in the first quarter increased by 87.7% year-on-year, compared with 344.7% in April.   
No.4 Notebook
Since March, the growth of China's electronic information manufacturing industry's added value and export delivery value has rebounded sharply. The value added of the electronic information manufacturing industry above designated size increased by 10.8% year-on-year, an increase of 0.2% over the previous year; the value of cross-border delivery increased by 12.7% year-on-year, an increase of 12.5% ​​over the previous year. From January to May, the export delivery value of the electronic information manufacturing industry above designated size increased by 1.5% year-on-year, a decrease of 2.4 percentage points. From an industry perspective, the value added of the computer manufacturing industry in May increased by 20.4% year-on-year, and the export delivery value increased by 27.4%. Among them, microcomputer equipment production increased by 27.5% year-on-year, notebook computer production increased by 28.6% year-on-year, and tablet computer production increased by 25.4% year-on-year. 
According to the customs semi-annual report, from January to June, the total export volume of laptop computers increased by 9.1% year-on-year, with gratifying results.   
No.5 Liuzhou river snails rice noodle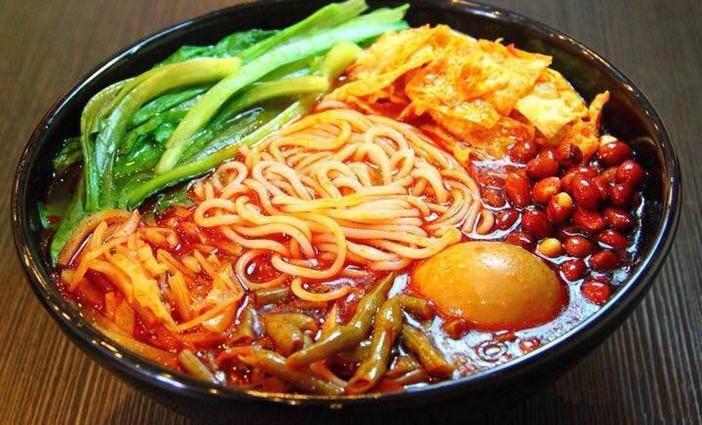 Liuzhou river snails rice noodle
are a kind of Internet celebrity snacks in recent years. It has been popular in China, but now it can be popular abroad, which is really amazing. According to the statistics of Liuzhou Customs in Guangxi, from January to June this year, after customs inspection, Liuzhou snail flour was exported in 28 batches, about 7.5 million yuan, which is 8 times the total export volume in 2019. In addition to the United States, Australia and European countries, the export market also entered Singapore, New Zealand and other countries for the first time.  
This year, snail noodles were launched in the United States almost every week, and 40,000 packs of snail noodles were sold out within three days of arriving in the United States. According to Chen Zihao, the head of foreign trade sales of a Guangxi snail powder production enterprise, the overseas business of snail powder has "blow out" this year. The company exported 350,000 bags of prepackaged snail powder in the first half of the year, 29 times the total export volume of last year. Now, orders have been received from Japan, South Korea, Italy and other countries, and overseas orders have been scheduled to next month.  
The pre-packaged Liuzhou snail powder production value in 2017 was only 3 billion yuan, and the output value of Liuzhou snail powder in 2019 was 6.256 billion yuan. Ni Mingyang, president of the Liuzhou Snail Noodles Association, predicts that the current sales of snail noodles are booming, and the pre-installed amount of snail noodles will exceed 10 billion yuan in 2020.
Article cited from the Internet